Complete Concrete Pools Melbourne
Welcome to Complete Concrete Pools Melbourne, Melbourne's premier customized concrete pool builders. We are experts in new pool constructions as well as concrete pool renovations and repairs.
Welcome to Complete Concrete Pools Melbourne, Melbourne's premier customized concrete pool builders. We are experts in new pool constructions as well as concrete pool renovations and repairs. With several completed concrete pool projects and satisfied customers across Melbourne, you can rest assured your pool construction is in the hands of professionals.
Installing a swimming pool will not only give you a place to relax after a long day, it will improve the aesthetics of your home. Your pool will modernize your property and boost its value.
A professionally built pool guarantees you a cool retreat when the typically scorching Melbourne summers arrive. And with solar or gas, you'll have an oasis to swim in all year round. Complete Concrete Pools Melbourne has years of experience in constructing pools in the different suburbs across the city. You can trust us to design and build a pool that matches your expectations.
Complete Concrete Pools Melbourne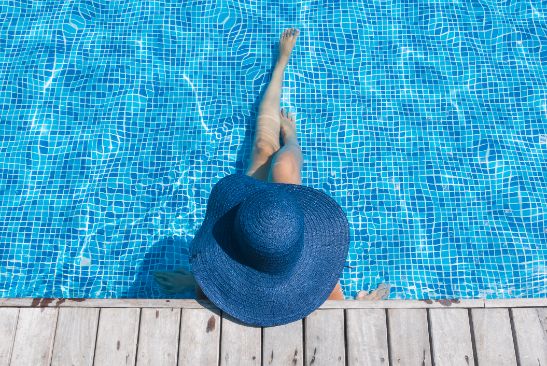 Regardless of the shape, size or styling requirements you desire, you can be sure we will deliver. Whether you want a spa or an infinity pool, curved or straight, we have the expertise to make your dream pool a reality. We are the pool builders Melbourne property owners rely on to deliver uniquely designed, tastefully finished concrete swimming pools that compliment the aesthetics of their homes.
The quality of our work is matched by the quality of our service. We make the entire process from the initial site visit to the commissioning of the completed pool fully transparent. You will get updates directly from the engineers on the ground to give you peace of mind throughout the project.
Benefits of Concrete Pools
When it comes to swimming pool installation, you will have two main options to choose from: concrete pools and fibreglass pools. Here are some reasons why concrete pools are a great choice:
Unlike fibreglass pools which come pre-fabricated, concrete pools can be designed to your specifications. You can therefore make your swimming pool as unique as you want it to be. Instead of making do with a limited selection of designs, you can have the pool you envisioned in the exact style you imagined it if you opt for concrete. Professional pool builders Melbourne residents trust can bring your dreams to life.
Besides being able to shape the pool to fit your available space and preference, we can throw in custom additions like steps, ledges and alcoves. If you have landscaped your yard and want us to make your pool blend in with its surroundings, our highly experienced designers and engineers will ensure you get your desired aesthetics.
When constructing our concrete swimming pools, we start by laying a reinforced steel frame in the excavated space. We then pour out a number of layers of concrete mixed in the required ratios to provide a sturdy structure that will stand the test of time. By contrast, fibreglass pools fade after a few years, requiring you to conduct renovations every now and then.
You can have your concrete pool designed in virtually any shape or size to match your home. If your space is narrow, we can install a lap pool, or wrap-around pool. Many sizing options to choose from means that a concrete pool can be designed to fit into areas that prefab fibreglass pools can't.
Concrete pools will go for decades without requiring any repair works. But should the pool surface be damaged, for instance, restoring it to its previous condition is fairly easy in the case of a concrete pool.
The last thing you want when trying to cool off during one of Melbourne's scorching summer afternoons is to find the water in your pool just as hot. One of the great attributes of concrete is that it doesn't transfer the prevailing heat to the water. You and the guests you will have over are therefore guaranteed a cool retreat come December.
Concrete Pool Vs. Fibreglass Pool
Durability: If you want a water feature that will serve you for years without any need for large scale repairs, a concrete pool is a wise choice. Concrete has a reputation for durability, hence its widespread use in general construction. And the beauty is that it won't need much in terms of maintenance. Fibreglass pools can also be pretty durable, lasting up to 20 years in some cases. However, you will need to recoat the surface of your pool every now and then as fibreglass pools tend to succumb more easily to wear and tear and exposure to the elements.
Range of styling options: The concrete swimming pools Melbourne property owners prefer offer a much greater degree of flexibility than prefabricated fibreglass pools can. Choosing from a variety of existing templates is the best you can get in terms of variety with fibreglass pools. With a concrete, you're free to choose from many concrete pool designs or come up with a bespoke design that best suits the size of your yard and the surrounding landscape. With fibreglass pools, you can do little to improve aesthetics; you're limited to the colour of the gelcoat interior. A concrete pool, on the other hand, offers you a range of interior finishing options. Besides the common tiled finish, you can go for a pebblecrete, jeweled or painted finish.
Cost: In terms of the initial construction cost, fibreglass pools are cheaper. Number crunchers estimate they can cost up to 20 percent less than concrete pools. That being said, you need to bear in mind the prefabricated pool has to be brought to the site complete. This means transporting it will present a considerable challenge. You will be required to bring in cranes and other specialised equipment, which will add to the cost of installation.
Construction time: Since they come prefabricated, fibreglass pools take a shorter time to install and commission. However, your property has to have enough space to accommodate the pool and you have to live with its design, even if it's not really what you want. The concrete swimming pools Melbourne homeowners love may take more time to construct, but this is because they are purpose-built and modified to accommodate any extra features they wish to include. Waiting a few more days to have your swimming pool exactly as you dreamed it is a fair bargain considering you will have to live with it for years.
Our Concrete Pool Services in Melbourne
Meet us & we can help you
Concrete swimming pools offer great versatility to suit different sizes and layouts of yards as well as personal tastes. Here are the options available to you if you're thinking of installing a concrete swimming pool:
Our Pool Building Process
Here are the steps we follow to make your dream swimming pool a breathtaking reality:
Site Inspection and Consultation Here our highly qualified engineers visit the proposed swimming pool site. This gives us the opportunity to create a pool design that fits with the size and shape of the available space. If your property is built on a slope, we will be able to recommend a pool type that works best We also discuss how you desire the feature to fit into your lifestyle.
Concrete Pool Design: Based on the findings of the site visit and our discussions, we will come up with a proposed swimming pool design. Besides you as the property owner being satisfied with the design, the plans for construction will need to be approved by a licenced certifier. Any of the pool companies Melbourne residents entrust with the construction of their treasured water feature should be able to come up with blueprints that will garner immediate approval.
Pool Excavation Once all the paperwork is done, our engineers will return to the site to begin actual construction. This will start with digging up the area marked out as the location of the pool. We work to ensure the excavation follows the markings precisely to ensure materials do not exceed projections. This stage of the process will take 1-3 days depending on the terrain and the complexity of the pool design.
Pre-Plumbing and Steel After excavation is complete, we plant timber markers around the perimeter of the pool to demarcate where the steel frame will be laid. We then rig up the steel frame according to the shape and dimensions of the pool, including features such as steps and swim-outs. The frame is made up of high-grade steel bars running across each other in a mesh pattern. Our technicians ensure each bar is put in place with precision and is well secured to guarantee you longevity.
Concrete Pour The next few days of the project will be spent pouring concrete into the steel frame bounded by the timber edge. We prepare our swimming pool concrete mix using sand, ballast and concrete in strict conformity to the recommended ratios. We then load the mix into a concrete sprayer and proceed to carefully apply it to the frame. When the application process is complete, the concrete needs to be given some time to cure. During this time we water the concrete at least twice a day to ensure curing is effective.
Pool Interior Finish Once curing is complete, we go over the surface of the pool and scrape it to remove concrete overspray or any uneven or sharp object. Another important step we undertake at this point is to seal all the plumbing components (pipes, drains, etc) of the pool. Doing this before the finishing is done will save you the trouble and cost of doing it as part of future renovations. After the leveling, we spray and brush a layer of adhesive over the leveled surface. The finish is completed by spreading pebbles over the surface and trowelling them until it is smooth.
Pool Tiles and Coping Before we proceed to the more decorative part of swimming pool construction, we lay a foundation of screeding. Once the screeding is smoothly in place, we begin work on the coping tiles. Measuring, cutting and laying these will usually take us less than a week. Laying and grouting the waterline tiles is a more painstaking process as we do this by hand. This is one of the attributes that sets us apart from other Melbourne pool builders.
Equipment and Plumbing There are three pieces of equipment your swimming pool will need to keep the water fresh and free of dirt; a pump, a filter and a chlorinator. The third piece is optional but it will save you the hassle of manually monitoring chlorine levels in your pool and having to do the treatment by hand. Depending on the design of your pool and the features you require, you may have additional equipment like the air blowers and gas pumps required for spas and heated pools respectively. Before we install any of this equipment, we pressure test all the swimming pool's plumbing lines to ensure they have suffered no damage in the course of construction. This is a crucial step any seasoned concrete pool builders Melbourne authorities have licensed will not overlook.
Your Brand New Pool After we have completed every aspect of construction and fully tested the pool's functionality, one of our experienced technicians will conduct the commissioning. During this process he or she will run you or your property manager over the features and equipment of the pool, explaining how everything works. You will also be given pointers on how to keep your pool in tip-top condition. Get in touch with us today to get an exquisite water feature from one of the concrete pool builders Melbourne homeowners trust. Call or email us and we will get back to you with a free quote.
WHy complete concrete pools melbourne?
Complete Concrete Pools Melbourne is a one stop shop for all your pool needs. We have innovative designs and streamlined construction methods that result in the ultimate backyard experience. All of our pools come with fixed price contracts, which means you will never be surprised by any hidden extras or additional fees when it's time to sign on the dotted line.
So get in touch today with our team for a free quote on your upcoming concrete pool project and let us build your dream pool!