The cost of an above-ground pool with installation charges can range from $3,000 to $11,000. The cost is largely determined by the pool's size, brand, and any additional features. The significantly lower price tag is not the only advantage of an above-ground pool; they're also safer for children due to their shorter height, come in a variety of sizes to fit most backyards, and are more easily moved. Annual maintenance costs for above-ground pools range between $2,500 and $5,000, which is comparable to the cost of an in-ground pool. Above-ground options, on the other hand, are typically smaller and easier to clean.
Even if you have an in-ground pool, a pool deck is an excellent addition. This creates a level platform above the water that can be used for lounging and easier pool access. Additionally, it simplifies pool cleaning.
A pool deck provides a relaxing space to lounge with loved ones and soak up some sun. Creating a beautiful outdoor lounge area is like adding a whole new living room to your home.
According to some experts, the cost of materials for a 10×10-foot ground-level deck ranges between $700 and $2,200 if you hire a contractor. While it is possible to build a pool deck on your own (and it is unquestionably the most cost-effective option), this home improvement should be reserved for those who are "truly into woodworking and understand it well."
With lumber prices on the rise, adding this upgrade to your outdoor space will require some additional planning and coordination, but it is definitely possible. Here are some expert tips for adding a cost-effective pool deck to your backyard this summer.
Make use of economical materials such as treated wood or bamboo
Because lumber prices are likely to remain high, consider using alternative, less expensive materials for your pool deck. Treated lumber is the most common material and is less expensive than composite or cedar deck boards. The cost of pressure-treated wood is approximately $5–$8 per square foot. Bamboo is another cost-effective option, costing between $3 and $4 per square foot.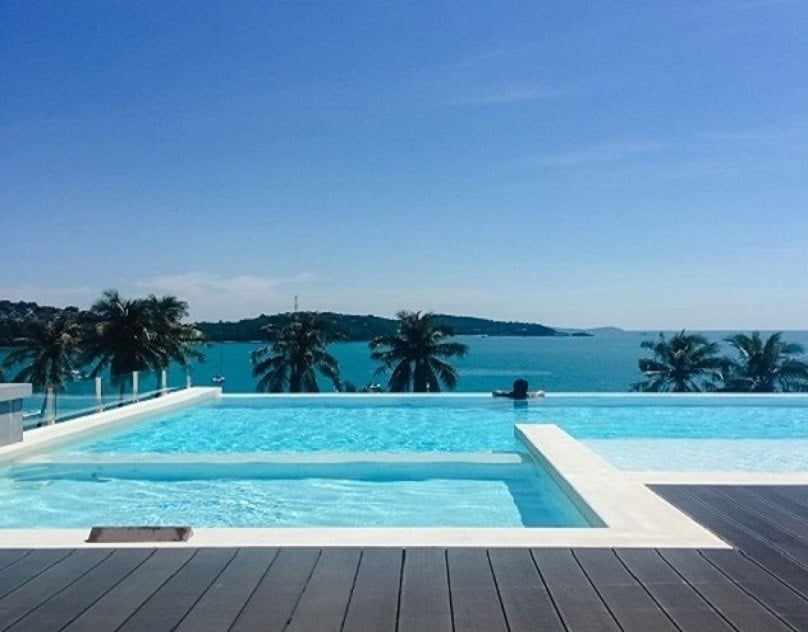 Utilize composite materials to save money over time
One thing to keep in mind about treated wood: while it is less expensive, it may not last as long as cedar or composite materials, particularly in areas that are constantly exposed to moisture. Annual maintenance and varnishing costs can add up (and take up valuable time), so you may want to consider a composite material like Trex. This will reduce the cost of maintenance by approximately $60 per year if you maintain and varnish a wooden deck on a routine basis. A square foot of Trex costs between $8 and $20. Trex is waterproof, doesn't splinter or crack, and is mold and insect resistant.
Construct the deck in segments
By building the pool deck in sections, you can take your time (and save money). There is no reason to construct an entire deck at once. You can build sections of it at a time for cost savings and easier access to the pool—with room for a few lounge chairs as well. Construct it in sections and as your financial situation improves or material prices fall, you can always add on. While you are preparing for a new pool installation in Melbourne, you can save money by following this tip.
Consider surrounding your pool with sand or rocks
Due to the high cost of wood and cement, you can save money by using as little of them as possible. Creating a lovely area for lounge chairs around your pool does not have to be concrete. Save the wood or cement for the pool's entrance and opt for something more tropical like smooth river rock or sand to save money while still creating the illusion of a relaxing oasis in your backyard.